First launched by Mayor Marvin Rees in 2019, the One City Plan provides timelines for each of the six Themes. The Themes contain three Goals per year through to 2050, with the Goals for each year building on the Goals of the preceding years.
The Goals are based on the business plans of organisations in Bristol, feedback from groups (such as the Mayoral Commissions) and then finally chosen by the members of the relevant Theme Board.
The current and previous versions of the One City Plan and the City Office Annual Reports are detailed below, and all the Goals are searchable on the Dashboard.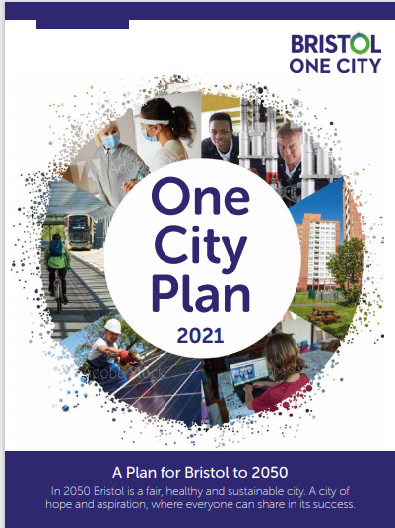 One City Plan (third iteration)
2021
This third iteration of the One City Plan has included work with the One City Boards, the Climate Advisory Committee and a wide range of partners and citizens to refine the previous 2020 Plan.
Crucially, they worked to ensure that the timelines reflect the impact of the COVID-19 pandemic on Bristol and its communities, with goals being drawn form sources including Bristol's multi-agency public health response and the One City Economic Recovery and Renewal Strategy.
Annual Report
2020
This document describes the work and achievements of the City Office in 2020, particularly in respect to the One City Plan and the response to the COVID-19 pandemic.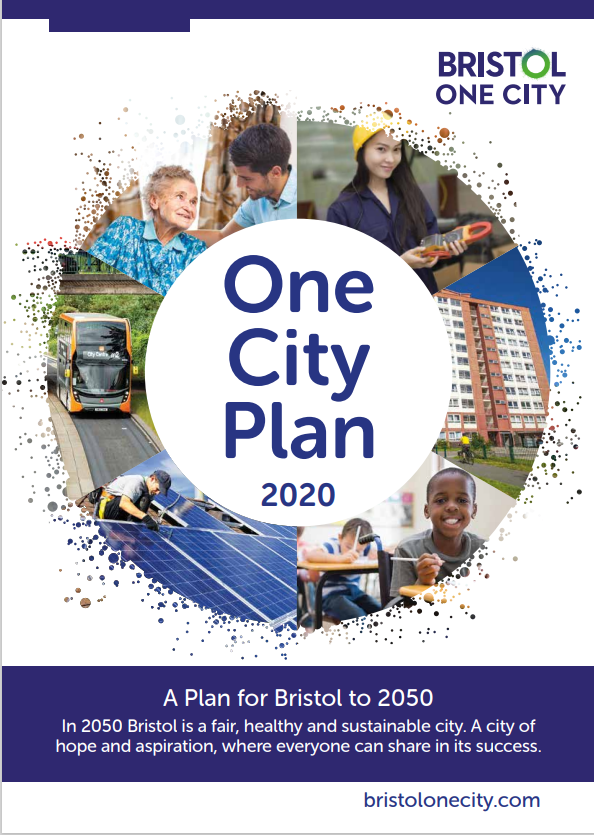 One City Plan (second iteration)
2020
This is the second iteration of Bristol's One City Plan.
The interdependent challenges of growing an inclusive, sustainable city that both resolves our social fractures and inequalities and reaches carbon neutrality sit at the heart of the future we must deliver. They are stitched throughout the plan.
In this iteration, we have sought to work with the experts on the One City Boards and a cross-section of partners and citizens to refine the annual objectives of the plan and take on the ambitious challenge of bringing some targets forward, for example the dates by which we deliver demonstrable reductions in economic inequality and bringing our carbon neutrality targets forward to 2030.
One City Plan
2019 
This is Bristol's first ever One City Plan. It is the product of our city's commitment to come together to agree and work for the future we want for Bristol to 2050.
This plan is a first iteration, a starting point from which we will develop ever-stronger future versions beginning with the refresh to be published in January 2020. It should be read with this in mind.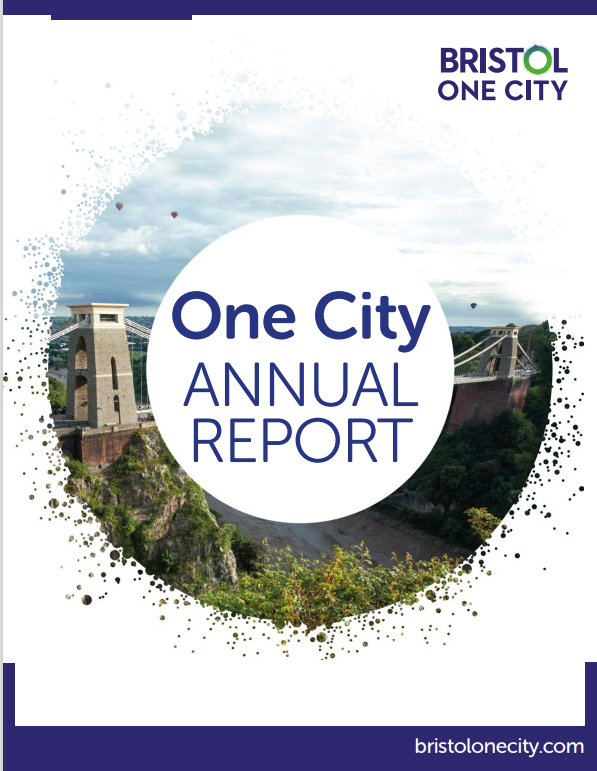 Annual Report
2019
This document is to describes the work of the City Office and what has been achieved in 2019 in response to Bristol's One City Approach, specifically with respect to the One City Plan and One City Leadership structure which was set up in January 2019. This document is not an exhaustive list of all City Office activity nor of all the activity in the city that could be deemed to have taken a One City Approach.