Since the launch of the City Office in 2016, we have supported and facilitated a number of cross-sector, city-wide collaborations. These come in a range of different shapes and sizes, and the level of City Office engagement varies accordingly, but all help tackle key city challenges and contribute towards the One City Plan goal of making Bristol a fair, healthy and sustainable city by 2050.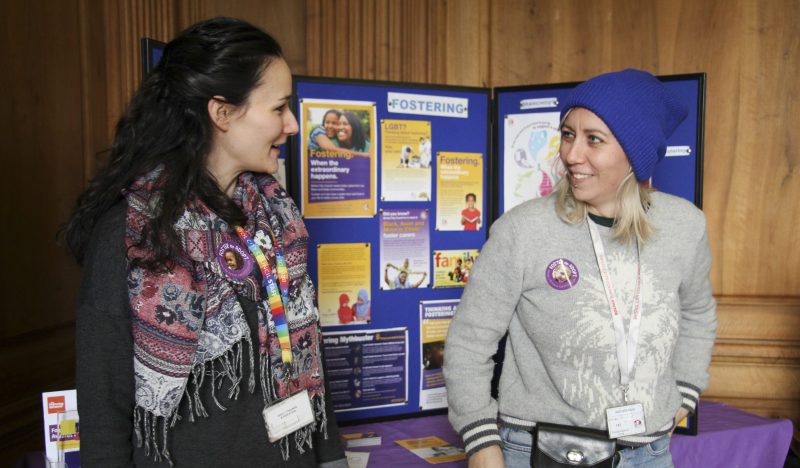 Have a look at the links below to find out more and get involved. Whether as an individual or part of an organisation, your efforts and expertise could go a long way!
Please note projects listed are in no particular order, and this is not an exhaustive list.
Period Dignity was chosen at the January 2019 City Gathering as one of the City Office's Top 3 priorities for the year. As part of the Period Friendly Bristol initiative, Plimsoll Productions have worked with a group of young people to capture a snapshot of their perspectives. The video is being promoted on social media by Bristol City Youth Council, and young people are being encouraged to fill out a short survey, to ensure that young people's views are incorporated into Period Friendly Bristol's vision.
An education programme, training and resources are being developed collaboratively and will be offered to all Bristol schools from 2020. The survey results will be taken into account in this programme and in the wider Period Friendly Bristol initiative.
Bristol is working towards becoming a Living Wage City. Following an Ask and Offer from the TUC South West, a number of employers in the city – from major businesses and public sector organisations, to SMEs and charities – are coming together to champion the real Foundation Living Wage. We are encouraging organisations to sign up and become accredited Living Wage employers, and to promote the benefits of accreditation widely amongst your clients, suppliers and partner organisations.
To find out more and become part of Bristol's Living Wage City journey, get in touch with the City Office on our contact page.
Bristol is dedicated to improving the lives and futures of those in care, who have left care and those who look after them.
Bristol City Council was awarded Fostering Friendly Status in 2017 and want as many individuals and organisations to join in supporting foster carers in the vital role they play and playing a part in ensuring children and young people in care have access to the same opportunities as their peers.
Replant Bristol have launched the #OneTreePerEmployee scheme to plant a quarter of a million trees in Bristol by 2030. For just £10 per employee you can help create a greener, healthier city for all.
Bristol is aiming to become a Gold Sustainable Food City.
As one of only four cities to achieve Silver status, Bristol has already shown that it has the motivation to make Good Food part of the city's identity. Now, individuals, organisations and policy makers are joining together to make big and lasting improvements across six key Food Action Areas.
Click here to see how you can take action as an individual or as an organisation.
The Bristol Housing Festival is an initiative of Bristol One City, along with founding partners Bristol City Council, the West of England Combined Authority, Bristol and Bath Regional Capital and the Shaftesbury Partnership. The Housing Festival is a response to the national crisis in the affordability of our housing and our public services, and will road-test a range of existing concepts and innovative solutions in the real-world helping to speed up the delivery of quality, affordable housing in the city. These prototypes will help develop scalable and longer-term solutions to support local government to create housing, places and communities promote hope and wellbeing.
The Bristol Forum is an initiative inspired by the One City Approach. The aim of the Bristol Forum is to bring together researchers with organisations across the city to address the challenges we face. In March 2019 the University of Bristol, University of the West of England and the City Office held the first in a series of events to ask how we work together to tackle inequalities in Bristol.
The broad aims of the forum are to:
Share intelligence, knowledge and insights relating to the challenges facing the city/city region
Create new opportunities for students, researchers, community organisations, businesses, trade unions and others to share their work, build collaborations and develop new action/research projects
Feed research findings and suggestions into the ongoing development of the Bristol One City Plan which is designed to put forward a vision and strategy for the future of Bristol going through to 2050
To find out more watch the video here, or visit the Bristol Forum website here.
Thrive Bristol is a 10 year programme to improve the mental health and wellbeing of everyone in Bristol, with a focus on those with the greatest needs.
It covers all ages and considers mental health in its broadest sense. It ranges from plans to improve the whole population's wellbeing to interventions for people experiencing mental illness.
The programme includes hosting a Time to Change Bristol hub, in partnership with the Bristol Anti-Stigma Alliance, to support the aim of Bristol becoming a city free from mental health stigma and discrimination, and the Thriving at Work project on workplace mental health issues.
City Funds aims to create positive and transformative change in Bristol by bringing businesses, community organisations, funders and the public sector together, to share resources and help address key priorities in Bristol.
Their £10 million investment fund works alongside grants to strengthen organisations solving some of the biggest problems facing our city; across four key themes:
No child goes hungry
Economic inclusion
Community initiatives
Environmental Transformation
Click here to find out more about what City Funds offer, or apply for investment funding.
The Clean Streets campaign is trying to bring the sparkle back to our streets, working in neighbourhoods across Bristol to tackle issues such as littering, tagging, fly tipping and fly posting, and overgrown vegetation.
To get involved, make the Big Tidy Pledge, help organise a Community Litter Pick, or see here to find out more about the Clean Streets Superheroes.
Bristol City Fellowships is an innovative new programme of fellowship opportunities for academics and practitioners working alongside communities at the margins, which aims to build inclusive cultures of collaboration in the city. It is a joint programme between the University of Bristol, Bristol City Office and the Social Justice Project.
The City Fellows programme will demonstrate that the expertise and practice developed when practitioner and community knowledge works alongside academic research can play a key role in shaping city governance.
Funding is available to enable each City Fellow to work on the programme for one day per week for 18-24 months to develop and implement a project that connects with one of the themes of Bristol's One City Plan (Health and Wellbeing, Economy, Homes and Communities, Environment, Learning and Skills and Connectivity) or identifies a cross cutting theme that should be considered (e.g. gender equality, disability and inclusion).
The Bristol Equality Charter has been set up to help  organisations improve equality, diversity and inclusion across Bristol. They commit to the principles of the charter, but can set their own goals and priorities.
Sign the charter and help Bristol work towards equality – download it here and send it to: equality.network@bristol.gov.uk
For more information on the Bristol Equality Network, download this presentation.
The Charter's pledges range from the protection of children from harm and having opportunities to play a full role in shaping the city around them to being able to have positive choices about their lives and development.
Aligning the pledges with those of the United Nations Convention on the Rights of the Child, the Charter applies to every child without discrimination, whatever their ethnicity, gender, religion, language, abilities or any other status, whatever they think or say, whatever their family background.
Any organisation wishing to sign the Charter and become a part of the pledge to develop a city that protects and provides for the most vulnerable children and young people should contact Councillor Helen Godwin, Cabinet Member for Women, Children and Families on childrens.charter@bristol.gov.uk
Criteria for inclusion
Want to see your project listed here? Have a look at the criteria and if you think this fits please contact us using the contact page.
This page is for initiatives that are occurring in the city that are either City Office affiliated programmes or activities that are taking a One City Approach to enable positive outcomes in the city. This includes:
Projects that are working across different sectors and/or with a range of organisations to deliver outcomes and;
Are focused on trying to address city challenges and/or enable positive outcomes for citizens in the city and;
Are contributing to the overarching goals in the One City Plan aimed at making Bristol a fair, healthy and sustainable city by 2050