Climate Change
Bristol was the first UK city to declare a climate emergency in November 2018. In response the Mayor published a climate emergency action plan. That plan committed to developing a One City Climate Strategy with city partners, for the council to be carbon neutral for direct emissions by 2025 and called upon government for increased powers and resources and for leadership including through national policies, taxation etc.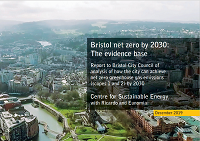 To support the development of the One City Climate Strategy, Bristol City Council commissioned the Centre for Sustainable Energy with Ricardo and Eunomia to produce Bristol Net Zero by 2030: the evidence base, a report on how the city can achieve net zero greenhouse gas emissions (scopes 1 and 2) by 2030. The associated evidence also includes an assessment of Bristol's resilience to climate change, the carbon footprint of the economy of Bristol and a report on consumption-based greenhouse gas emissions for Bristol.
In October 2019 the city established an independent Bristol Advisory Committee on Climate Change (the BACCC) to provide technical expertise to help the city to understand and accelerate progress towards its ambition to be a carbon neutral and climate resilient city by 2030.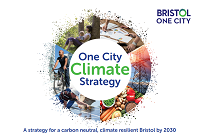 In February 2020, the One City Environment Board published the One City Climate Strategy (the OCCS) setting a shared vision for Bristol in 2030 to be a carbon neutral and climate resilient city. The strategy is framed around ten themes and six enabling conditions that describes the dramatic changes needed in our transport, heat and electricity networks, what we consume and waste, our food, businesses and public services, buildings, infrastructure and natural environment.
In October 2020, the Community Climate Action project, coordinated by the Bristol Green Capital Partnership launched with support from the National Lottery's Climate Action Fund. The project sees six Bristol community organisations – Ambition Lawrence Weston, ACH, Bristol Disability Equality Forum, Heart of BS13, Lockleaze Neighbourhood Trust, and Eastside Community Trust play a leading role in shaping Bristol's transition to a low carbon and climate resilient city, with the support of Bristol City Council and the Centre for Sustainable Energy.
In November 2020, the Black and Green Ambassadors program was re-launched, coordinated by the Bristol Green Capital Partnership and Ujima Radio with the support of the National Lottery and Bristol City Council. The programs mission is to connect, empower and celebrate diverse leadership and community action on environmental issues in Bristol and beyond; challenging perceptions, creating new opportunities and working towards ensuring the environmental movement is inclusive and representative of all communities.
In December 2020, Bristol City Office launched the Bristol Climate Hub to help residents to make informed decisions through taking action to reduce their own household carbon footprints.

In September 2021, the One City Environment Board launched the #BristolClimateAction brand to make the work of local groups, organisations and businesses working on climate action more visible across the city.
In October 2021, at the City Gathering, the One City Environment and Economy Boards – echoed by the Mayor launched the Bristol One City Climate Ask – an active ask for all businesses and organisations based in the city to declare an ambition to become Net Zero by 2030.

In November 2021 a wide range of Bristol networks worked together to organise the COP26 Business of Net Zero event and to launch a series of Ambition Net Zero business videos and stories to support the Bristol One City Climate Ask. The University of Bristol also hosted a mock COP26 event for local schools [link to follow]. The voices of Bristol citizens can also be heard through a growing series of Bristol One City Climate Action Stories.