Happy New Year to you all! The City Office have had a very busy festive season which culminated with the largest and broadest City Gathering to date last Friday. In addition to this we have also published the 2020  iteration of the One City Plan, published our Annual Report for 2019 and launched a new City Office dashboard to make it much easier to engage with the One City Plan goals.
City Gathering
Firstly, we'd like to a massive thank you to those who were able to attend the City Gathering on Friday. We had over 280 attendees and 41 speakers covering a wide range of topics. We were honoured to have had Dame Carolyn Fairbairn from CBI join us as well former Irish Ambassador to the United Nations David Donoghue.
As you heard on Friday, we're pleased to announce that the Living Wage Foundation has formally recognised Bristol for its commitment to becoming a Living Wage City. This is just the start of our journey – and we need more organisations to work with us.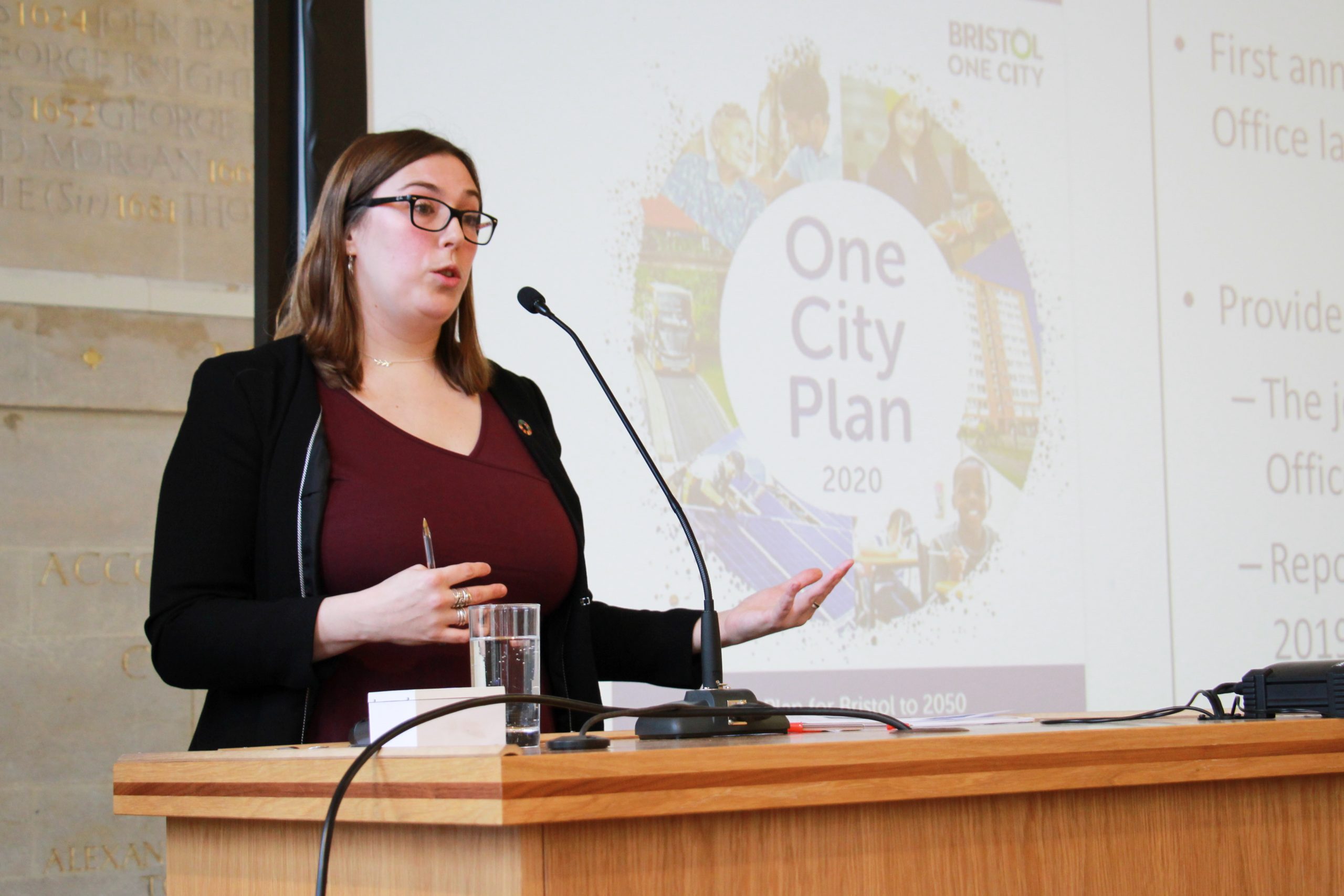 We're organising a Living Wage Meet and Greet on Monday 17th February at 3.30pm at City Hall. It's an opportunity to meet other employers and the Living Wage Foundation to learn more about how you can get involved. Please get in touch with the team to register your interest for this or future events by emailing business@bristol.gov.uk.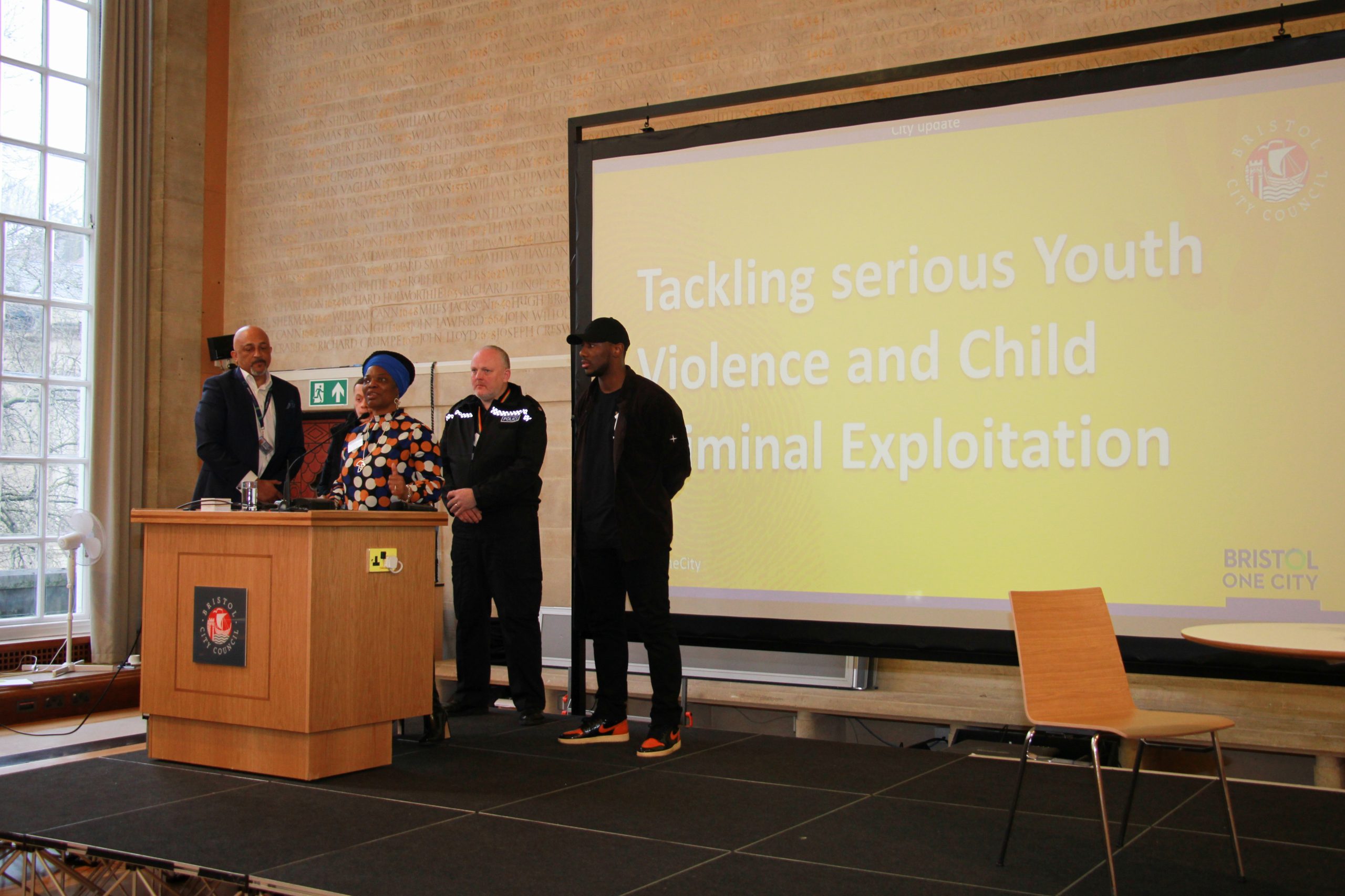 We also had updates from those working to deliver last year's City Office priorities. Thanks to support from the City Office Interns a City Office Affordable Childcare Report has been published and will be used to take this work forward. The team behind Period Friendly Bristol shared about the recent launch of Period Friendly donation and distribution network, web app, and education programme being offered to all Bristol schools. Lastly, we heard from some of the team that have been working to tackle street conflict. One of these speakers was Anton who has experienced some of the challenges many young people caught in this issue face. Anton Brown has now moved on to set up a local business which helps young offenders and those at risk get meaningful employment and raise their aspirations in life. If you would like to contact Anton directly about his business Ecosheen and find out how you can support his work, he has allowed us to share his email address anton@ecosheen.co.uk and website: www.ecosheen.co.uk
Big offer Big Ask
We heard from three groups who had big offers to the city and big asks from the City. If you'd like any more information, all the contact details and information about these Offer and Asks is below.
1 – Bristol Clean Streets
Offer: We will make Bristol the cleanest Core City in the UK
Ask: Making our city cleaner and greener is something we all have to take responsibility for. Make a Big Tidy pledge today for a sparkling tomorrow. Your pledge could be:
Run a campaign in your own organisation to encourage people to understand their role in keeping the city tidy
Commit to taking responsibility for keeping the outside of your workspace sparkling
Promoting litter picking as a CSR opportunity (the Great Bristol Spring Clean in March would be a great place to start) – Our aim is get 500 new volunteers this year.
Sponsor a roundabout (our aim is 20) or help fund the removal of tagging
Contact kurt.james@bristol.gov.uk  Visit: www.bristolwastecompany.co.uk/bigtidy
2 – Replant Bristol
Offer: Help us plant a quarter of a million new trees in Bristol by 2030
Planting 110,000 woodland trees, cost £1.1 million.
Planting 10,000 street trees in areas of low tree cover, cost £3 million.
Ask: To do this we need Bristol to play its part
One Tree Per Employee – every £10 donated plants a tree in Bristol.
Street Trees – £295 will plant larger trees in public spaces.
Offer land for tree planting (this can be small or large locations).
Contact: info@forestofavontrust.org  Visit: www.forestofavontrust.org/replant-bristol
3 – Reading City
Offer: Bristol Reading City and Ablaze are coordinating volunteer and donation schemes to provide volunteers and materials to ensure levels of literacy in the city of Bristol continue to rise year on year
Ask: Help us make Bristol a Reading City
Give us one hour of your time this year to read to children and be a Reading Champion or give more time and be a Literacy Champion
Donate
10x donations of £10 Ablaze can support volunteers to work with four pupils
10x donations of £40 Ablaze can set up a new school and business partnership
10x donations of £50 you can buy books to stock a cloakroom library
1x donation of £2,500 you can sponsor a complete cloakroom library
Contact enquiries@ablazebristol.org 
Top 3 priorities for 2020
The top three priorities for 2020 were also chosen at the City Gathering on Friday. The first of these priorities was selected through a vote by the Bristol Youth Council and the Babbasa Youth Ambassadors. They selected the Connectivity Priority:
"Funding measures are explored to secure investment to develop mass transit systems, including underground and overground, and increased support for public transport, cycling and walking options, improving the movement of people across the city."
The other two priorities selected for 2020 were the Environment board's priority of achieving Going for Gold:
"Ensure Bristol is accredited as a gold standard in the Sustainable Food City awards and establish a legacy programme."
One of the key first actions people can take towards this priority is registering actions on the Going for Gold website and for those who were at the gathering, completing and returning their pledge cards.
And the Homes and Communities board's priority of reducing the number of families living in temporary accomodation:
"Build on and deliver city-wide interventions to tackle homelessness with a focus on reducing the number of families in temporary accommodation."
Next Steps
As a City Office one our first priorities is to pick up the connections from Friday's gathering. We had many great conversations and are excited to continue our role linking people and organisations to form new partnerships in Bristol.
We are going to develop smart targets for the 2020 priorities, as well as the other 15 priorities for this year.
Lastly, we would appreciate hearing your opinions on the new website that we have launched. This can be comments generally on the site or more specific on elements of the plan all the way down to the goal level. We have developed a feedback survey so please make use of this and let us know so we can continue to improve this tool.
We would also love to hear how we can improve our City Gathering's. Please email us if you have any thoughts or opinions about Friday's gathering.
If you have any other comments or questions, please contact hello@bristolcityffice.com